In today's always-on, hyper-connected world, having the right technology solutions is essential.  To build and sustain economic value and to automate core business functions, putting the right solutions in place creates the foundation to save your business time and money, and to help support your company's growth objectives. Measuring ROI is one way many business ensure it's the right technology for them.
Many small and medium businesses (SMBs) recognize how critical this when it comes to managing core business processes, including accounting, financial management, inventory management, customer relationships and human resources.
They want to take advantage of modern enterprise resource planning (ERP) solutions to gain flexibility and visibility, improve controls and realize the full potential of the business. But budget and resource limitations are the norm for many SMBs— which can make keeping pace with technology an uphill battle.
Cloud-based ERP solutions can help SMBs bridge this gap. Cloud ERP's subscription model helps ease the financial obstacles that often get in the way of deploying traditional on-premises ERP.
How can you determine which cloud ERP route is right for your business? Measuring the Return on Investment (ROI) for your SMB will help you to determine which model best aligns with your company's strategy, workload, performance, and security needs.
Return on Investment (ROI)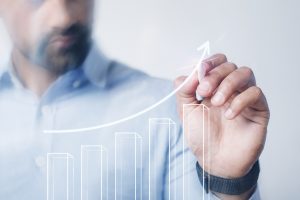 ROI helps leaders determine which investments are good ones and predict the financial success of those investments. ROI can be calculated on tangible investments such as property or equipment or intangible assets like software.
Some people show this number as an annual percentage, comparing it to other investments.  This is also commonly called the payback period, which is the length of time it will take for the benefit gained from the investment (in months/years) to exceed or recoup the expense of the investment. In theory, the shorter the payback period, the more financially beneficial the investment is.
How do you quantify intangible assets like an ERP solution for your business?  We've found these are the 6 key measurements for success of any software solution.
6 Measurements for Your ERP Solution
Profitability Increases: Improving invoice accuracy can decrease collection cycles and improve cash flow. Monitoring financial performance through updated budget-versus-actual analysis can trigger corrective actions to adjust for unexpected budget differences. Transformation of the IT delivery model will also deliver tangible benefits and reduce operating costs.  All these benefits of ERP software can assist in controlling costs and improve overall profitability.
Better Inventory Management: Good ERP systems bring the greatest benefit in terms of inventory planning.  Having the right inventory in the right location to meet demands will make your business more successful.  No more stockouts or out of stock items (without keeping an unnecessary abundance of inventory on hand). An intelligent ERP solution can monitor the "number of days' supply" for each inventory item and compare it to future forecasted demand.
Tighter Integration with Accounting: A modern ERP solution supports all accounting activities across the entire business.  Transactions monitored and accurately accounted for provides a financial picture of business operations and highlights.  Clients can easily review budget versus actuals, alerting you to trends that might need attention before problems arise.
Improved Use of IT Resources: Implementing a new ERP system can also free up IT resources.  Replacing an existing, older legacy application that requires on-going maintenance and support with a cloud solution can reduce down-time, in-house development costs, and save time for IT personnel, freeing up time for other tasks.
Better and Quicker Customer Service: How's your business's customer experience?  If not so great, that needs to change.  Businesses cannot survive and be successful on product alone.  Customers expect excellent service too.  They want fast service, accurate billing, shipping, tracking, and return options.  A modern ERP system can track line-item fill rates, order fill rates, on-time deliveries, and invoice accuracy. Comparing these measures to historical results can identify trends and potential issues before they become problems.
Increase in Compliance Compatibility: Compliance is becoming increasingly more difficult for all businesses.  Establishing and documenting compliance for the various tax and regulatory agencies have a significant burden on internal processes and staff.  Newer ERP software can improve compliance and audit-ability of a business's records, reducing compliance risks.
Measuring the ROI of an ERP Solution
Benefits of a new ERP solution need to be tracked and measured.  Operating performance metrics should be built-in and easy to report on. Acumatica, the cloud ERP, tracks key performance and variance and displays all the information you need in a meaningful manner through a colorful dashboard.  This allows you to quickly see trends, interpret the data, and take corrective actions before you have a problem.
Perhaps the greatest issue regarding ROI is when business leaders don't calculate it!  Smaller and midsize companies often make the mistake of thinking they're small enough not to worry about it. But with the right ERP system, business leaders can accurately measure the benefits of an ERP software investment and prove the value of it for years to come.
WAC Solution Partners are your Acumatica experts. Ready to find out how we can help your business get to the next level? Contact us today and a member of our team will connect with you to discuss your business and how we can help.