We don't like to brag, but we are very excited to earn our Gold Certified Partner award, along with official authorization in Acumatica Manufacturing and Acumatica Distribution editions. Additionally, we've got a few Acumatica's MVPs on our roster.
It's not all about us, though. What this means for you is that you're working with a team that has been thoroughly trained, tested, vetted, and approved by the folks who wrote the software. Working with certified partners results in a higher ROI, increased client satisfaction, as well as a higher internal adoption rate. Read more about what the specific certifications entail, and learn what you get when you work with WAC Solution Partners.
WAC is always there when you need them. They are very timely, quick to respond, never put you off – because they want you to succeed.  Jennifer Ogzewalla, Wine Racks America, Inc. 
Gold Certified Acumatica Partner
Acumatica's exclusive gold partner certification represents the highest "gold standard" for our best-in-class ERP consulting practice. Our ERP consultants must pass rigorous training and testing requirements to earn the Acumatica Gold Certification, demonstrating the highest level of proficiency with Acumatica, the cloud ERP solution.
Manufacturing and Distribution Authorized Partner
Industry authorized partners are better equipped to support the needs from the sales cycle to implementation, to support and beyond. These certifications and awards are important to ensure success for our clients. Not only do we have the required knowledge, but we have also successfully completed numerous manufacturing and distribution implementation projects.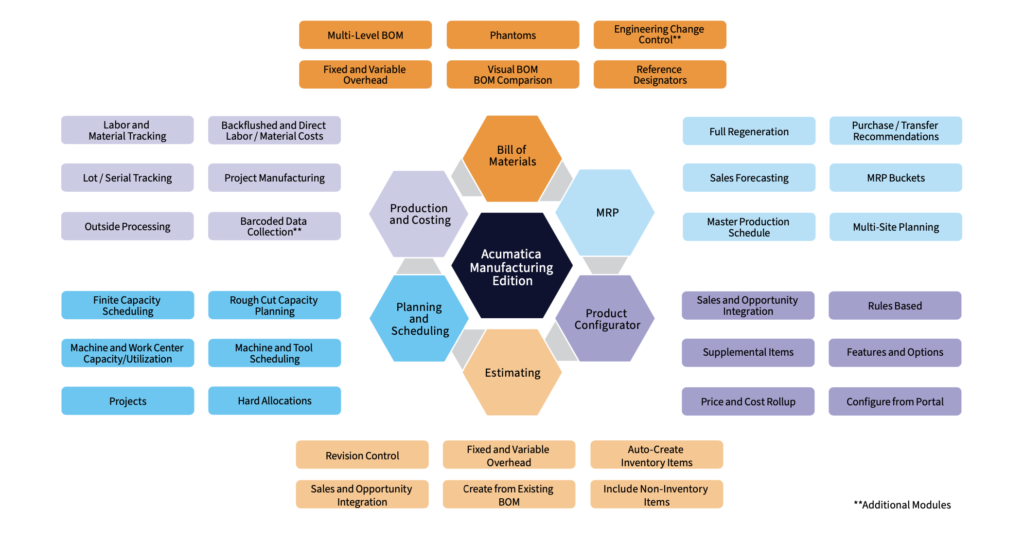 Acumatica Manufacturing edition is a comprehensive suite of connected business applications, across industry segments providing the tools needed for production, estimating, engineering, material planning, scheduling, product configuration, and manufacturing data collection. Through Acumatica's ease of use and rapid integrations, manufacturers increase efficiency and get meaningful insights into their operations.
WAC Solution Partners is committed to keeping up to date on the latest and greatest in Acumatica to help solve our clients' business challenges.